Our ADVENTURE tours offer an exciting experience, significantly different to an onshore sightseeing tour, because of the risk of being on the water or sea, perhaps slightly out of your comfort zone. Our scheduled two-hour guided tours are aimed at individuals with limited paddling experience and tourists wanting to see Cape Town from the water. You don't need much paddling experience, but must be adventurous and prepared to get wet.
All equipment is provided by way of kayaks, paddles and life jackets. Boats come from the stable Vagabond range, the Mazowe double and the Marimba single.
We will escort you and provide information as you experience the spaces we have on offer, from the ecologically sensitive Zandvlei Estuary Nature Reserve resource to the fascinating Simon's Town coastline. Tours are seasonal, arranged for when the weather is the best. Contact us to customise a tour for your requirements.
Our Downwind ADVENTURE takes intermediate paddlers on one-on-one downwind experiences with an expert downwinder on a FENN XTS double surfski. One-on-one downwind sessions and Miller's Runs in strong to extreme conditions are also available, either escorted while you paddle your craft or on a FENN XTS double surfski. Because of the extreme nature of this adventure you will be required to participate in our training session prior to going on your first Miller's Run!
REGULAR TOURS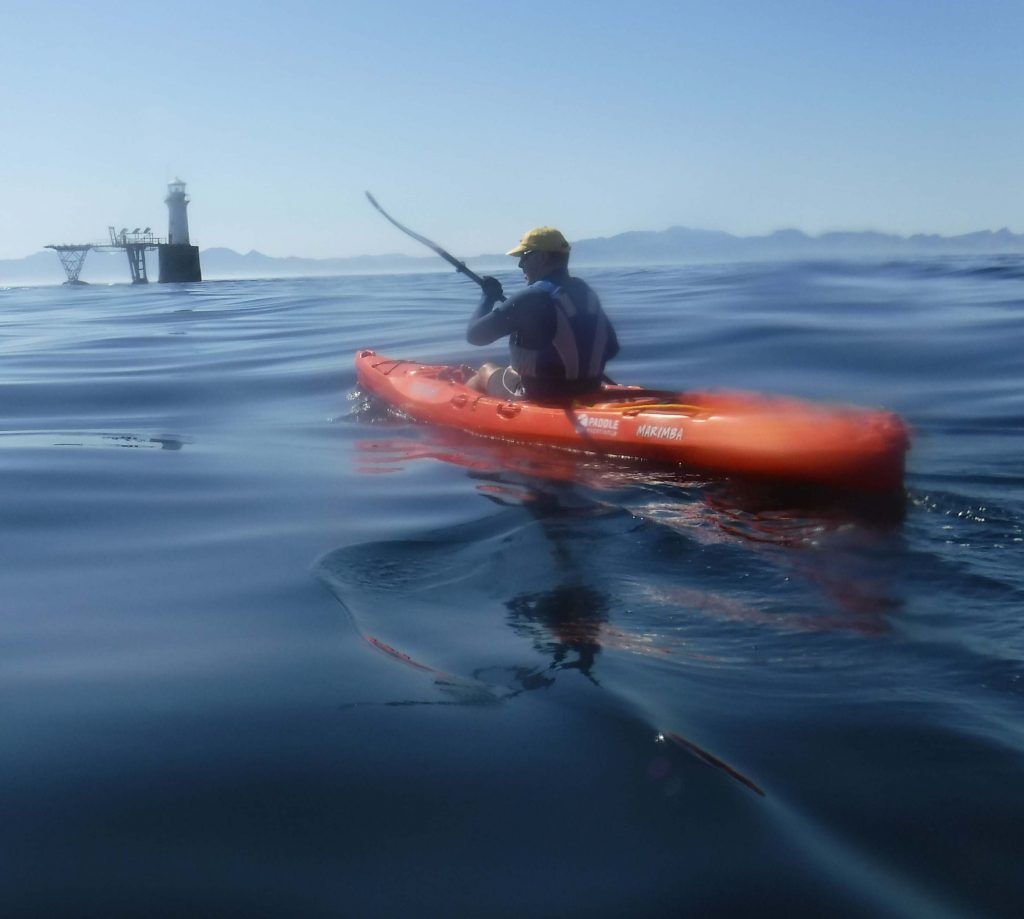 SIMON'S TOWN COASTLINE
Paddle with us on a circular tour from Long Beach, an easy paddle through the yachts and harbour basin. This area is steeped in history, being the location of various naval commands over the years and now the South African Naval Command.
Provided the south easterly wind is not too strong, the tour will include a short section of the coastline to either side of the yacht basin, either down the beach towards the remains of the Clan Stuart shipwreck, or to Boulders Beach. You could see penguins, the cape fur seal, dolphins and in season might be lucky enough to spot a sunfish and a whale or two!
Book for a scheduled tour or make an arrangement for a customised tour.
CONTACT us for a FUTURE VOUCHER:
Tracy 0711743099 or tracy@paddleexperience.co.za
ZANDVLEI ESTUARY NATURE RESERVE
Let us take you on a water-based tour of Zandvlei Estuary Nature Reserve. You will enjoy an easy paddle on its expanse of flat water where you can spot abundant birdlife, including coots, herons, perhaps flamingos and even pelicans in season.
Marina Da Gama with its multitude of white waterfront homes. There is always activity on the water, whether it be canoeing, sailing or windsurfing.
Tours are scheduled for the early part of the morning when the conditions are best.
Book for a scheduled tour or make an arrangement for a customised tour.
CONTACT us for a FUTURE VOUCHER:
Tracy 0711743099 or tracy@paddleexperience.co.za
DOWNWIND ADVENTURE
If you have experience in a canoe or surfski we are now also able to offer the bungee jumping of the surfski world: a true Cape Town Style Downwind Paddle known locally as a Miller's Run. This is sold as a package as you have to go through our introductory training before we unleash your inner adventurer and let you ride the swells into Fishhoek beach with the wind pumping behind you!
Booking below covers your full downwind package costs, including your

1 hour introductory session

A Millers Run (this is dependent on wind conditions and is scheduled directly with our instructor. Please allow about 3 hours for the downwind itself)
Get a taste of the adventure that awaits:
CLICK HERE
CONTACT us for a FUTURE VOUCHER:
Tracy 0711743099 or tracy@paddleexperience.co.za